Welcome to the Donnie Darko Wiki
Donnie Darko is a 2001 American fantasy drama film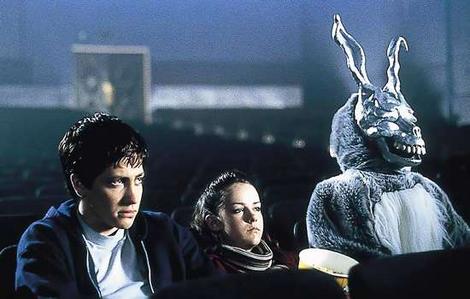 Donnie Darko was written and directed by Richard Kelly and starring Jake Gyllenhaal, Drew Barrymore, Patrick Swayze, Maggie Gyllenhaal, Noah Wyle, Jena Malone, and Mary McDonnell.
On the night of October 2, 1988 Donnie Darko is woken by Frank's voice. After sleepwalking outside he sees Frank wears a disturbing bunny suit. Frank then proceeds to tell him that the world will end in 28 days, 6 hours, 42 minutes and 12 seconds.
Loading RSS data...
Ad blocker interference detected!
Wikia is a free-to-use site that makes money from advertising. We have a modified experience for viewers using ad blockers

Wikia is not accessible if you've made further modifications. Remove the custom ad blocker rule(s) and the page will load as expected.